Pwesents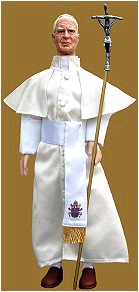 This is what I want for Christmas. A JPII doll.
According to the
site
, he speaks more than 25 different phrases.
I imagine these include:
"No Gays"
"No Protestants"
"No Gay Protestants"
"No Women"
"No Touching"
"No Thinking"
"No. In General"
"These are my ruby red slippers, Dorothy. Get your own."
"No...the pink robe doesn't make you look feminine, Ratzinger"
"What Would Jesus Do?"
"Condoms make as little sense as science"
Any more? Comment box is waiting!!